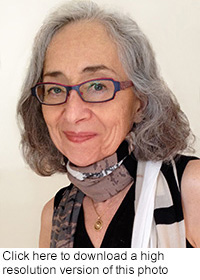 Read a Q & A with Marcia Falk
Marcia Falk was born in New York City and raised on Long Island in a Conservative Jewish home. As an adolescent, she studied painting at the Art Students League and took classes in Hebrew and Jewish studies at the Jewish Theological Seminary. She received a B.A. in philosophy magna cum laude from Brandeis University and a Ph.D. in English and comparative literature from Stanford. She was a Fulbright Scholar in Bible and Hebrew literature at the Hebrew University in Jerusalem, and returned there four years later as a Postdoctoral Fellow. A university professor for fifteen years, she taught Hebrew and English literature, Jewish studies, Bible, and creative writing at Stanford, the State University of New York at Binghamton, and the Claremont Colleges.
Marcia's latest book, from Brandeis University Press / HBI Series on Jewish Women, is The Days Between: Blessings, Poems, and Directions of the Heart for the Jewish High Holiday Season. For readers in search of a contemplative approach to Rosh Hashanah, Yom Kippur, and the fall season, The Days Between re-creates key prayers and rituals in poetic forms from a contemporary, inclusive perspective. Among its offerings are new Hebrew and English blessings for festive meals, prayers for synagogue services, and poems and meditations for quiet reflection that may be used in all seasons.
Steeped in traditional sources but welcoming to modern readers, The Days Between serves as alternative or supplement to the traditional liturgy. It has received advance praise from writers and rabbis, including Rabbi David Teutsch, professor of Jewish civilization at the Reconstructionist Rabbinical College, who called it "a wonderful companion for the Ten Days of T'shuvah."
The predecessor of The Days Between was Marcia's groundbreaking prayer book, The Book of Blessings: New Jewish Prayers for Daily Life, the Sabbath, and the New Moon Festival, published by Harper Collins in 1996. The result of thirteen years of research and writing, The Book of Blessings contains new Hebrew and English blessings, poems, and meditations, accompanied by a commentary intended for general readers as well as scholars. Reviews of The Book of Blessings include praise from distinguished author Cynthia Ozick, who wrote, "Marcia Falk's work on Hebrew blessings is as beautiful as it is innovative," and liturgy scholar Rabbi Lawrence Hoffman, who called it "a liturgical and literary masterpiece." "Falk puts purpose and potency back into prayer," wrote Alisa Solomon in The Village Voice.
Marcia's classic verse translation of the biblical Song of Songs was released in 2004 in a new edition, The Song of Songs: Love Lyrics from the Bible (Brandeis University Press). When it was first published, in 1977, Nobel Laureate Isaac Bashevis Singer wrote, "I thought until now that the Song of Songs could not be translated better than it is done in the King James translation. Marcia Falk really managed to do an exceptional poetic job." Poet Adrienne Rich called Falk's Song of Songs "one of the great classics of the art of translation" and went on to write, "It's always a thrill when (as rarely happens) the scholar's mind and the poet's soul come together." Commenting on the 2004 publication, Li-Young Lee, winner of the Academy of American Poets Distinguished Poetry Award, wrote, "More than a quarter of a century since it first appeared in print, Marcia Falk's translation of the Song of Songs remains unsurpassed for power, elegance, and music. Marcia Falk is a poet's poet, and this is a real poet's translation."
Among Marcia's other books is The Spectacular Difference: Selected Poems of Zelda (Hebrew Union College Press, 2004), the first full-length English translation of the Hebrew poetry of twentieth-century mystic Zelda Schneurson Mishkovsky. An Orthodox Jew descended from a line of prominent Hasidic rabbis, Zelda emerged from the world of her fathers and mothers to become a best-selling author beloved by the diverse Israeli readership. "Zelda's poems as given to us in Marcia Falk's fine translations are wondrous, magical," said Li-Young Lee. Israeli writer Amos Oz called The Spectacular Difference "delightful... an exemplary translation of one of the most wonderful voices in modern Hebrew poetry."
Marcia has also produced a translation of the poems of Yiddish modernist Malka Heifetz Tussman, With Teeth in the Earth (Wayne State University, 1992). Reviewer Lucille Day, writing in Calyx, called it a "stunning collection," and David Roskies, Chair of the Department of Jewish Literature at the Jewish Theological Seminary, wrote, "There is no other Yiddish literary translation quite like this—nor is there likely to be again."
Marcia's other works include three poetry books: My Son Likes Weather; This Year in Jerusalem, about which Adrienne Rich wrote, "These poems have the lucidity of etchings and the intensity of gemstones"; and It Is July in Virginia, which won the Claytor Award of the Poetry Society of America and about which poet Heather McHugh wrote, "It forges new ground... [these are] odd, still, resonant poems, quite distinctive, at times almost revelatory."
A popular public speaker and dramatic reader of poetry, Marcia travels widely to college campuses, JCCs, synagogues, and other venues. Her topics range from the love lyrics of the Bible to contemporary Jewish women writers. She also leads congregations in services and rituals from The Book of Blessings and The Days Between.
Marcia lives in Berkeley, California, with her spouse, poet Steve Rood. Their son, Abraham Gilead (Abby), plays and teaches classical guitar, tutors children with disabilities, and works in Berkeley's farmers' markets. His parents never lack for organic vegetables and fruit.
© Marcia Lee Falk. Photo of Marcia by Stephen Damon; click on the photo to download a high res version.
The text on this page is licensed under a Creative Commons Attribution 4.0 International License.